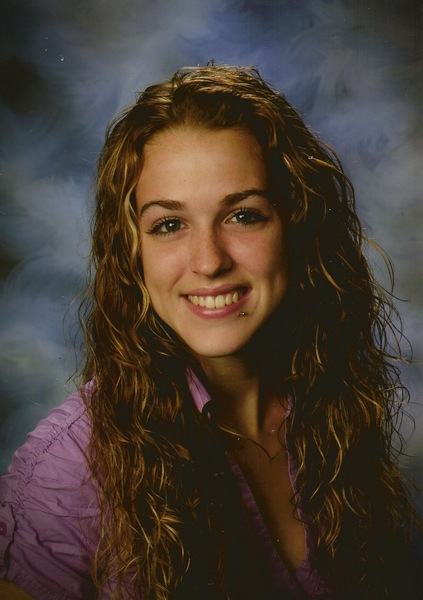 Follow story
Receive email updates when there are changes to this story.
Delaney Marie Farrell
July 13, 1993 - July 01, 2017
Delaney Marie Farrell, 23, of Selinsgrove, passed away on Saturday, July 1, 2017, in Williamsport, after a long and hard battle with drug addiction.
She was born in Nyack, N.Y., a daughter of Brian J. and Bridget M. (Ryan) Farrell on July 13, 1993.

In addition to her parents, she is survived by her older sister Anastasia and younger brother Dillon; two nephews; Antonio and Angelo Manha, as well as her grandparents; Mary Farrell, and Ruth and Ed Ryan, all of Selinsgrove. She will also be sadly missed by her 15 aunts and uncles, along with 15 cousins and many, many old and dear friends, including 4,953 Facebook friends!
She was preceded in death by her uncle, Patrick Farrell; and her grandfather, Thomas J. Farrell.

Delaney was a 2011 graduate of Selinsgrove Area High School and was most recently employed at the Red Roof Inn, Williamsport, which is where she was when God decided it was time for her to come home.
If there was one word to describe Delaney, I'm sure everyone would agree that it would be "funny". Delaney loved to laugh and make people laugh. She would always make jokes, stupid remarks and facial impressions, which would get those around her roaring, even in the most serious of moments.
Delaney was also known for her love of oreo cookies. This addiction started in the third grade during her special reading class. Every time she read a sentence correctly, she received an oreo. Needless to say, Delaney loved to read and read often; however, even with no books around, Delaney could be found eating oreo cookies by the dozen. While holding 3-4 cookies at a time, she would dunk them into a big glass of milk to soften, and shove them all in her mouth at once. Ironically, at 23 years old, she never had a cavity.
She loved social networking and was usually found posting selfies on Facebook. She was absolutely beautiful and had a singing voice to match. Another hobby of Delaney's was writing. When she was younger, she would often write silly stories about her family or her beloved pets, including her many dogs, cats, rabbits, squirrels, horses and even a llama.
Delaney would also write in her journals or on just random pieces of paper; some were private but some she would share. She forwarded one of her last entries to her sister, which depicts the pain and suffering that she was enduring throughout this horrific drug epidemic that has affected so many families in this country. Her soul is finally at peace.

"Funny, I don't remember no good dope days. I remember walking for miles in a dope fiend haze. I remember sleeping in houses that had no electric. I remember being called a junkie, but I couldn't accept it. I remember hanging out in abandos that were empty and dark. I remember shooting up in the bathroom and falling out at the park. I remember nodding out in front of my sisters kid. I remember not remembering half of the things that I did. I remember the dope man's time frame, just ten more minutes. I remember those days being so sick that I just wanted to end it. I remember the birthdays and holiday celebrations. All the things I missed during my incarceration. I remember overdosing on my bedroom floor. I remember my sisters cry and my dad having to break down the door. I remember the look on his face when I opened my eyes, thinking today was the day that his baby had died. I remember blaming myself when my mom decided to leave. I remember the guilt I felt in my chest making it hard to breathe. I remember caring so much but not knowing how to show it. and I know to this day that she probably don't even know it. I remember feeling like I lost all hope. I remember giving up my body for the next bag of dope. I remember only causing pain, destruction and harm. I remember the track marks the needles left on my arm. I remember watching the slow break up of my home. I remember thinking my family would be better off if I just left them alone. I remember looking in the mirror at my sickly completion. I remember not recognizing myself in my own Damn reflection. I remember constantly obsessing over my next score but what I remember most is getting down on my knees and asking God to save me cuz I don't want to do this no more !!! " Delaney Farrell

Sadly for us, but lucky for her, God was listening and answered her prayers. Now she is no longer in pain, and is flying free.

Friends and relatives are invited to call from 2 to 4 p.m. Saturday at the V.L. Seebold Funeral home, 601 N. High St., Selinsgrove, followed by the funeral at 4.
Published on
July 4, 2017
Send flowers
in memory of
Delaney
See more
Obituary published in
Events
Guestbook
Print Guestbook
Share your condolences and special memories.
The guestbook expires on October 18, 2018.
Share a message.
Add photos to your message
1390 posts
My sincere condolences to the family. May the hope and comfort from God sustain you during this difficult time. Revelation 21:3,4.
I'm so sorry for your families loss. May you find peace and comfort in the days ahead. God has promised a resurrection of those sleeping in death, may you hold on to the hope of seeing your beautiful chil again. (John 5:28&29;)
So very sorry for your loss. Losing those we love is a heartbreaking experience, but God cares and through his word he comforts us. "He hears your prayers and sees your tears."(2 Kings 20:5 ) and Acts 24:15 says there will be a resurrection. What a wonderful hope to see your loved one again. I send my deepest condolences to your family.
I didn't know Delaney or even her family but I've known many who have struggled with addiction. I'm sure when she wrote this she didn't know how many people she would touch with her words. God is looking over her now as he's looking over all our loved ones who have gone before us. XO
So sorry for your loss im going through the same thing with my son and i wish he was free to instead of living in hell every day God bless to you all xx
Thank you for sharing this for the world to see. My prayers is for your peace.
Peace be with you and your family. ....
My heartfelt condolences and prayers are with you and your family. I do not know Delaney or your family. This is a beautiful poem. May she Rest in Eternal Peace. My son passed away of a Rx pill overdose it's been 12 years now. Not a day goes by that I don't think of him. Healing prayers. Im so sorry for your loss.
I didn't know her ,but I am praying for everyone who is missing her and love her,so sorry for your loss
I did not know Delaney or any of the family. I did meet her brother Dillon today because I asked about his new tattoo which is the poem Delaney wrote about heroin addiction. He has it written on his arm in computer binary code. My heart goes out to Delaney and the family she left behind. I am so sorry for your loss.
Beautiful young lady. So sorry for your loss, Fly high young lady. God bless the family
So sorry for your loss!! I did not know this sweet angel, but my heart breaks for her just the same!! My condolences to her family and friends! Thanks for sharing her story 😢
She was very beautiful. Rest in Heaven beautiful.
Though I didn't know this beautiful angel, I knew/know many like her. My heart breaks for her family. May God bring you comfort and healing
R.I.P sweet Angel. Your story is moving & inspirational
😔😔so sorry for your loss.
That brought tears to my eyes. Idk your family or you, Delaney, but RIP, baby girl. There's no better place than with our Lord Jesus Christ. I am Delaney's age (12/7/93) and I hope your family heals and Idk... I am thankful for coming upon this. Its bittersweet. Stay blessed.
My baby brother died on the same day as Delaney from addiction. My family is broken from it and watching your best friend cry his eyes out because he just wants to feel normal is the most helpless feeling in the world. I pray shes at peace like I know Matt is. They don't have to stuggle anymore.
I didn't know your family. But I know the pain of closing someone to the drug. My prayers are with you. So very sorry for your loss
So sorry for your loss. Such a beautiful story of a wonderful soul. Had be pouring down like rain with tears. So close to home. It could have been one of my kids just as easy. My thoughts and prayers are with you all.
Thank you for sharing this beautiful young ladies story. I myself am in a similar situation with a loved one and its terrifying to see them go thru this life. It makes you feel completely helpless no matter how much you try to help them. If they are not willing to help themselves-there's not much you can do until they are ready. Although, I only know Delaney by her story it has touched me deeply and will stay with me. Rest in Heaven sweet girl, your struggle is over, your pain is no more. You are loved, you are missed, you will never be forgotten.
I'm so sorry for the families loss .she was such a beautiful young lady .Prayers for all her friends and family my heart goes out to you all.
Thank you for sharing Delaney's story with us, gone to soon. My family is struggling with my daughters addiction, I will share Denlaney's story and pome with her in hopes she might feel the sadness that I felt! Sending prayers for Delaney, her family, and friends. 🙏 😢
I didnt know this beautiful young lady in life. Her story was posted on a facebook page and I found myself reading her story and poem. To the family I am so sorry for your tremendous loss :( I just want to say that she is beautiful and sounds like a amazing person and she is looking down on you all in love. Ill keep your family in my prayers.
My condolences to her family and friends. Such a beautiful lady May she R.I.P